The only luxury treehouse
in the Amazon Rainforest.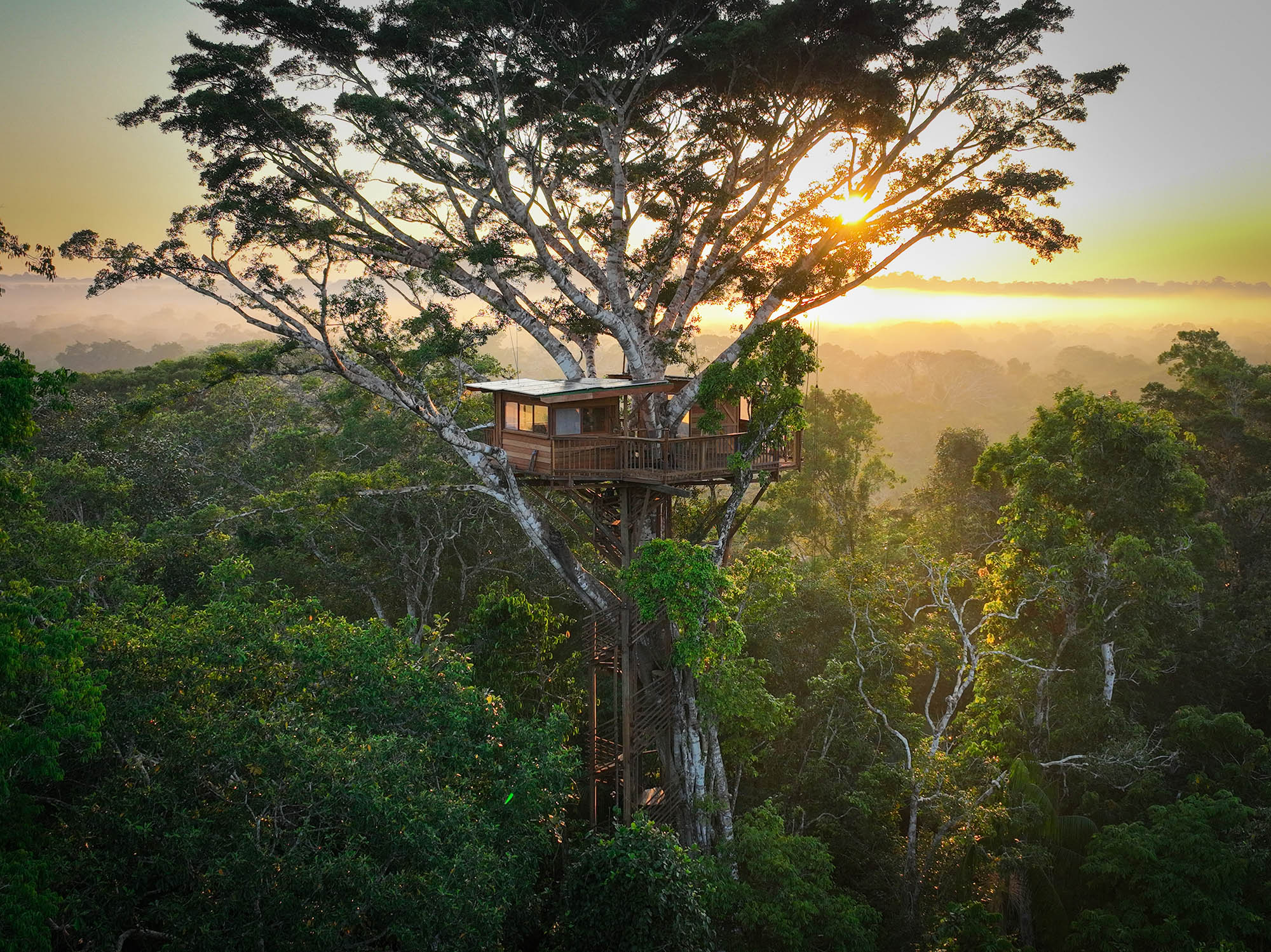 110 ft.
above the rainforest canopy
Deep in the sprawling immensity of the Peruvian Amazon Rainforest there is one tree that stands above the rest.

It is not just one tree but two, an ancient host tree entangled in a massive strangler fig, reaching high above the canopy. This is where we built our treehouse.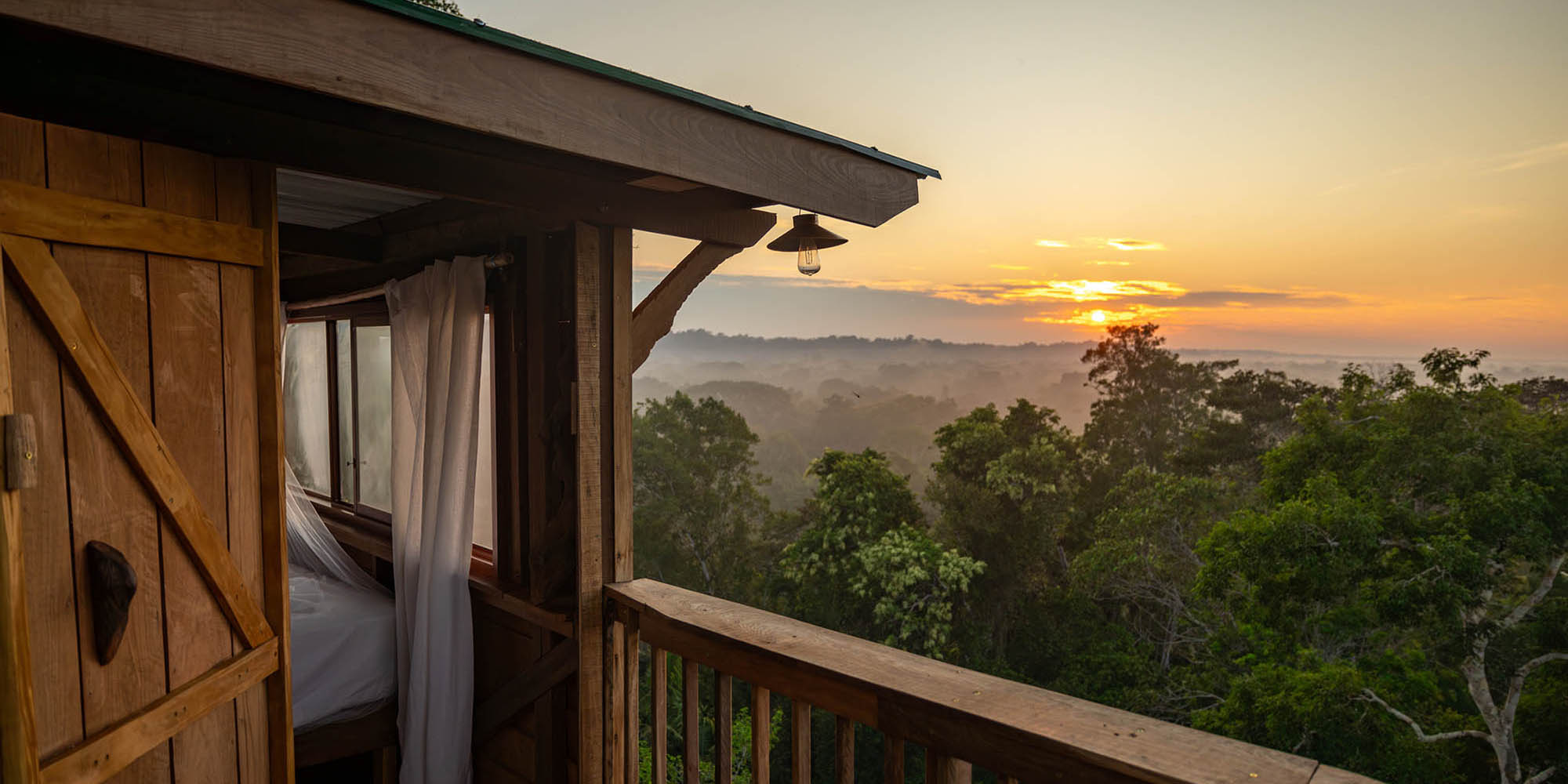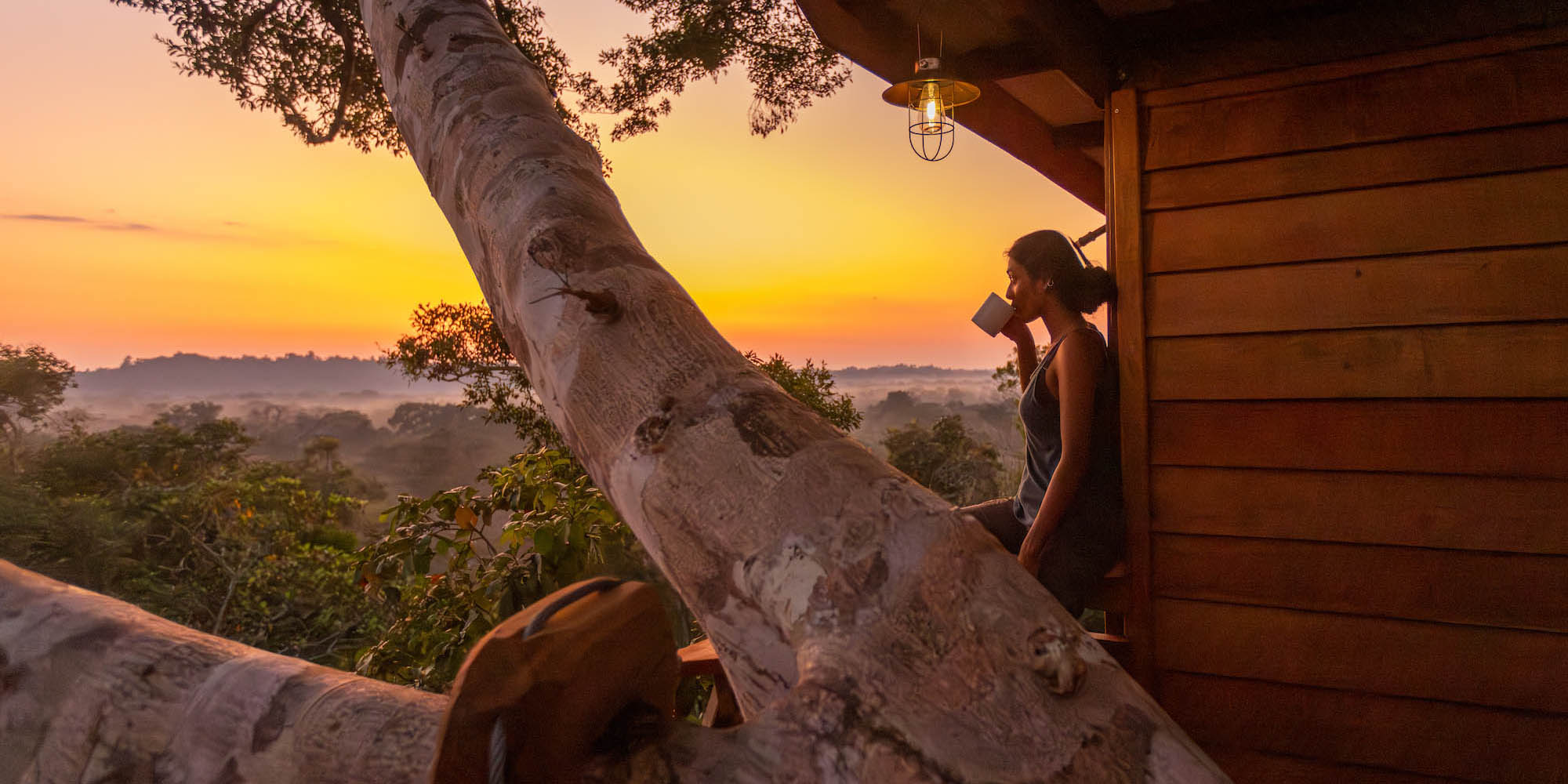 Rest and restore in luxury within the most diverse ecosystem in the world.
Awaken amidst the incredible canopy flora and fauna with amenities you expect in a five-star hotel room.
Hot & Cold Water
Mini-fridge
Solar Power Electricity
Air Conditioning
Comfortable Bed
Luxury Decor
Shower
360º Views
Bug nets & repellants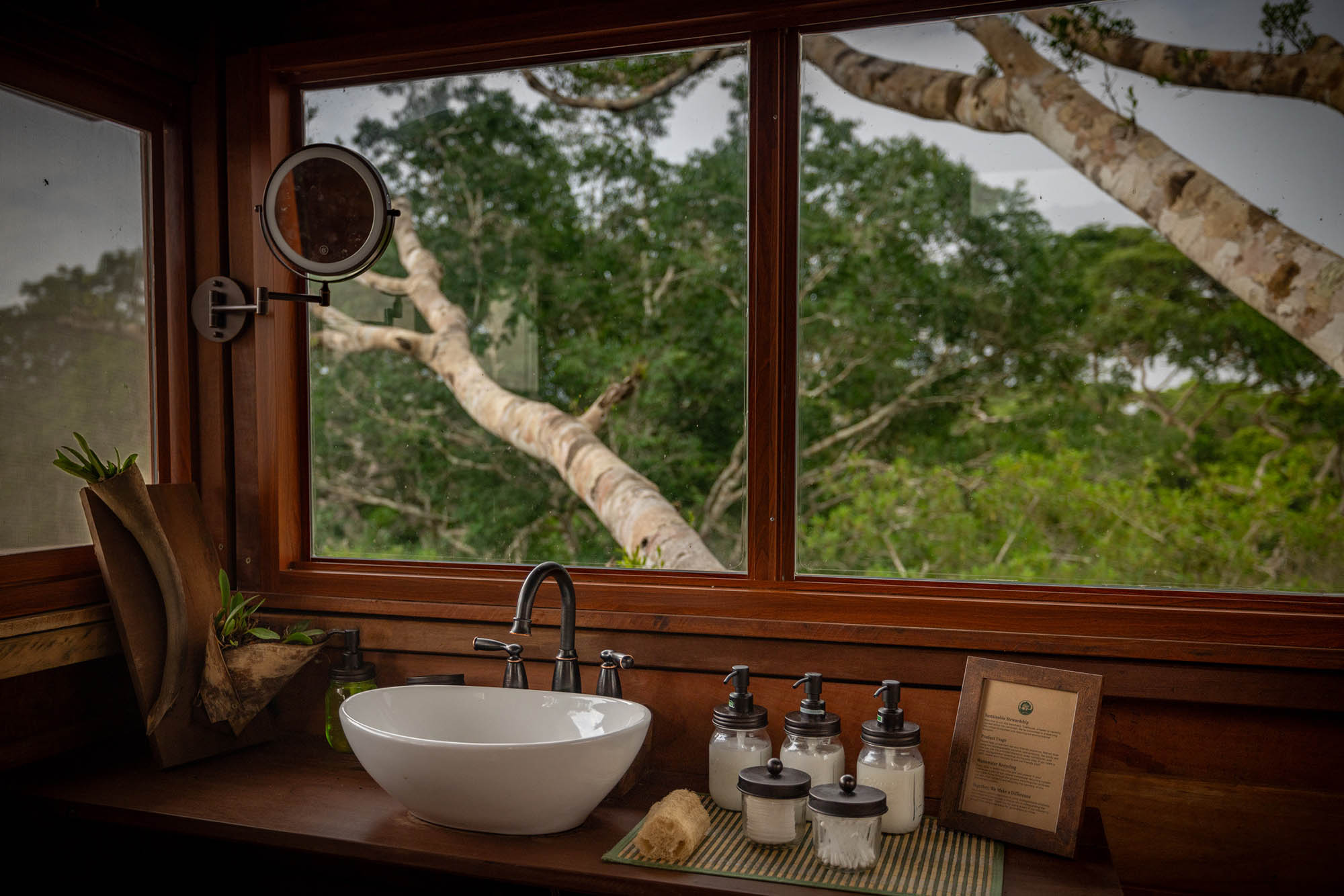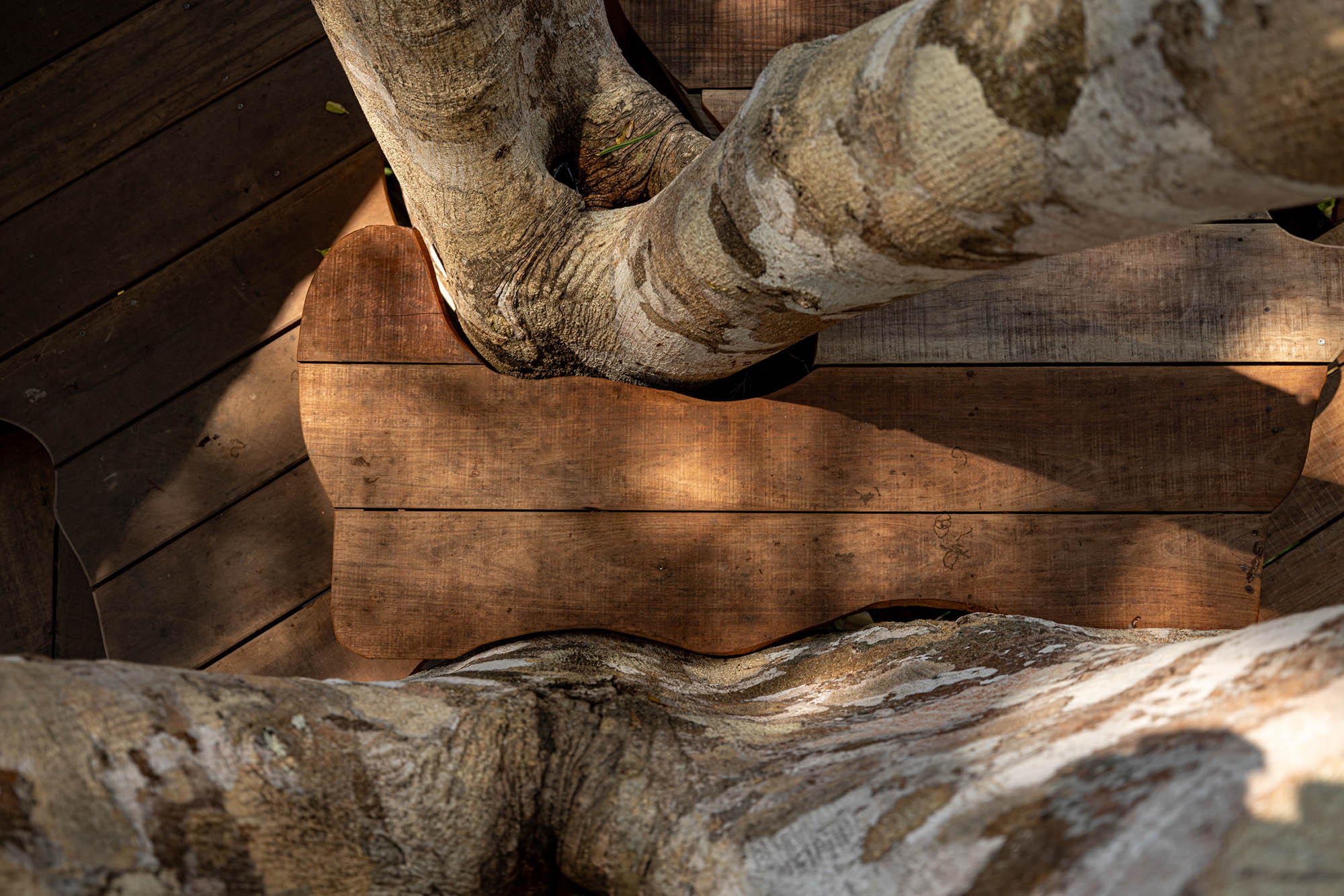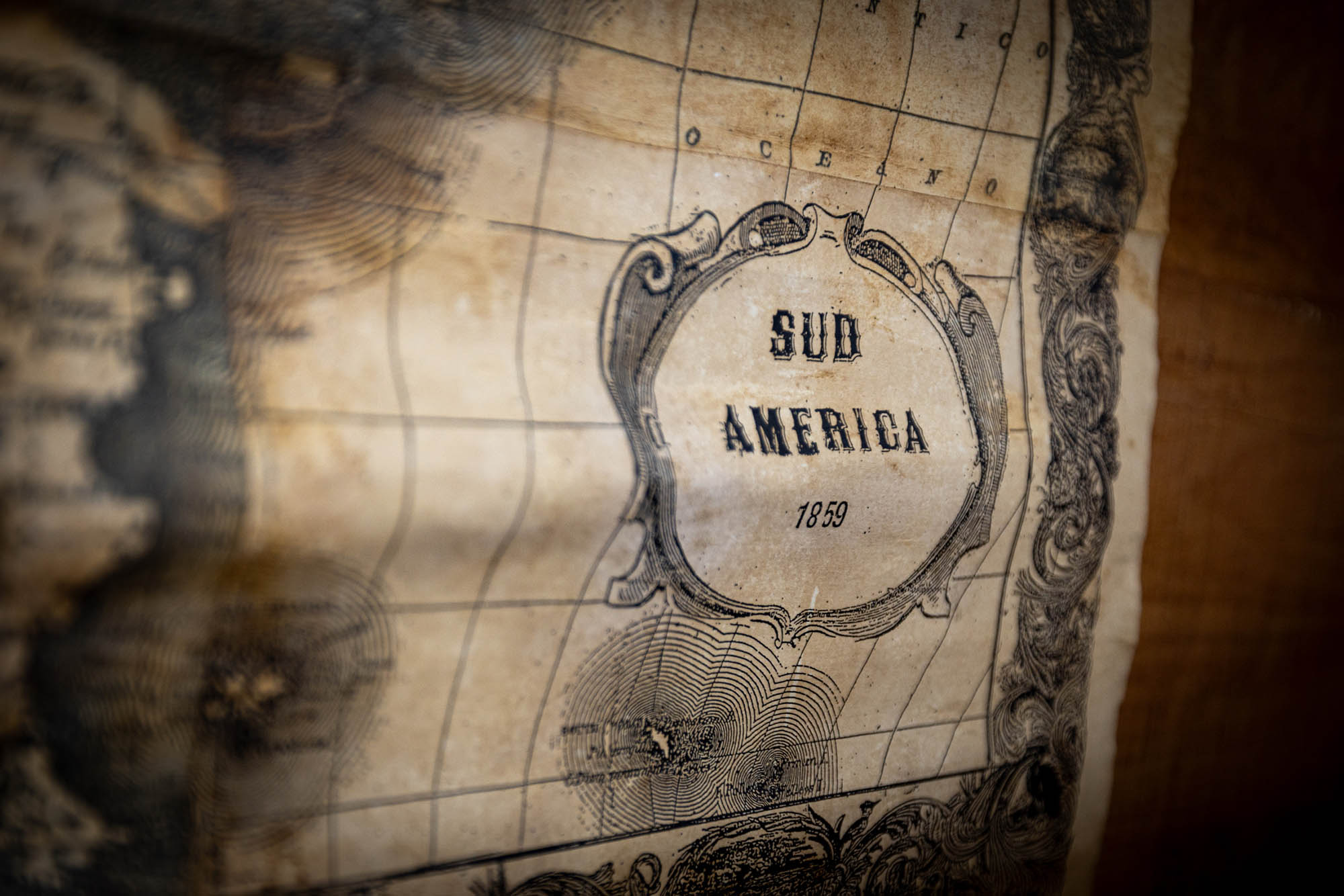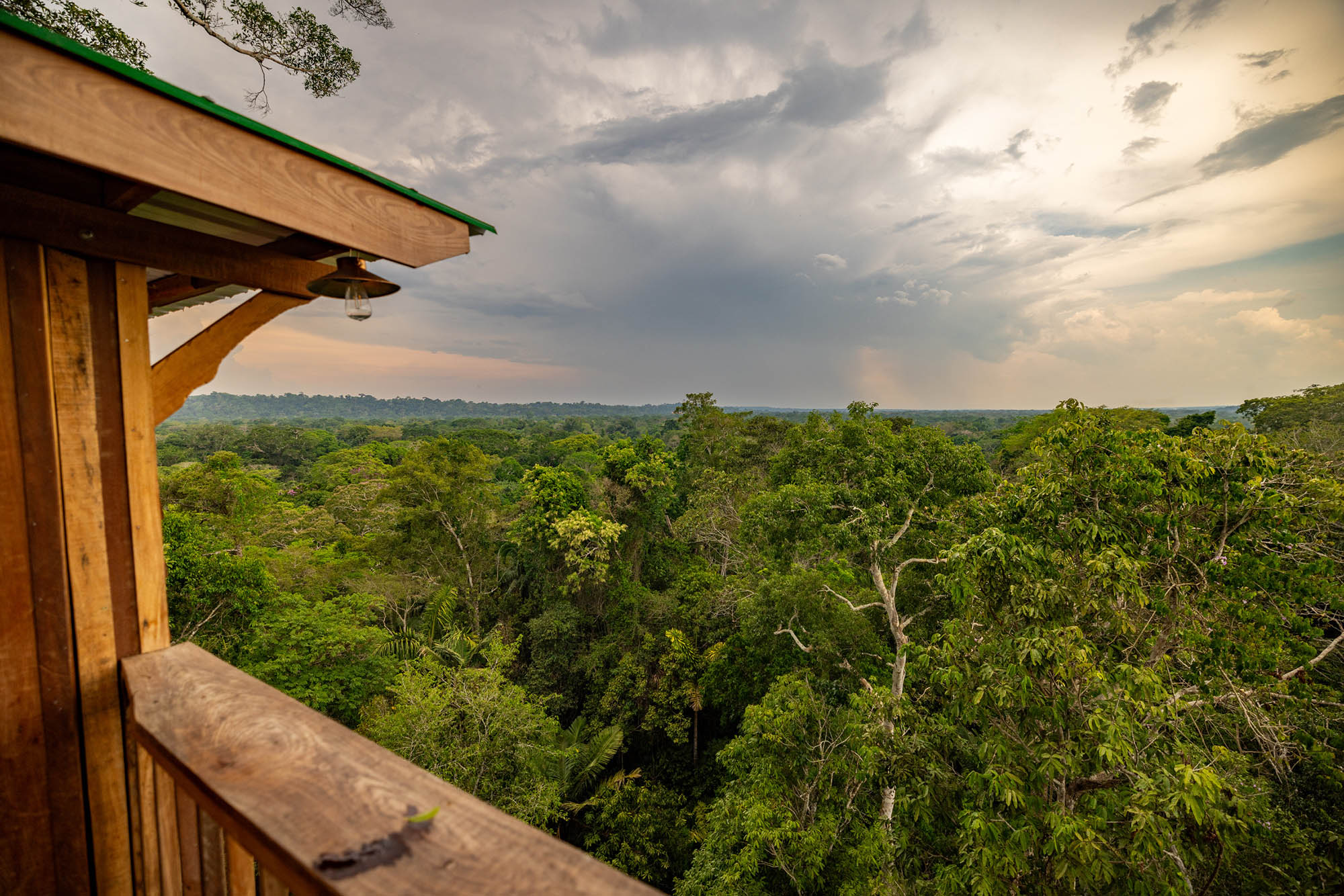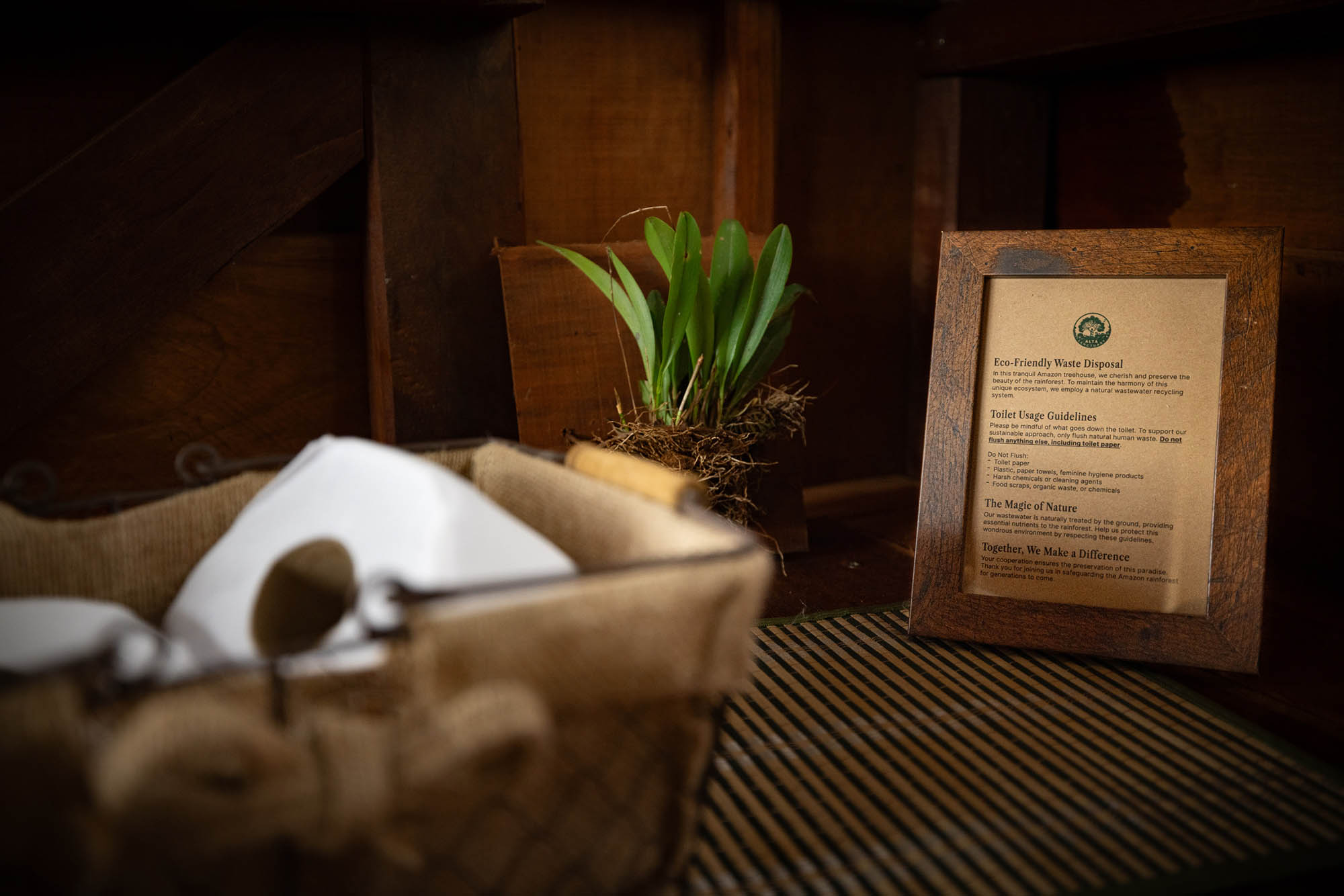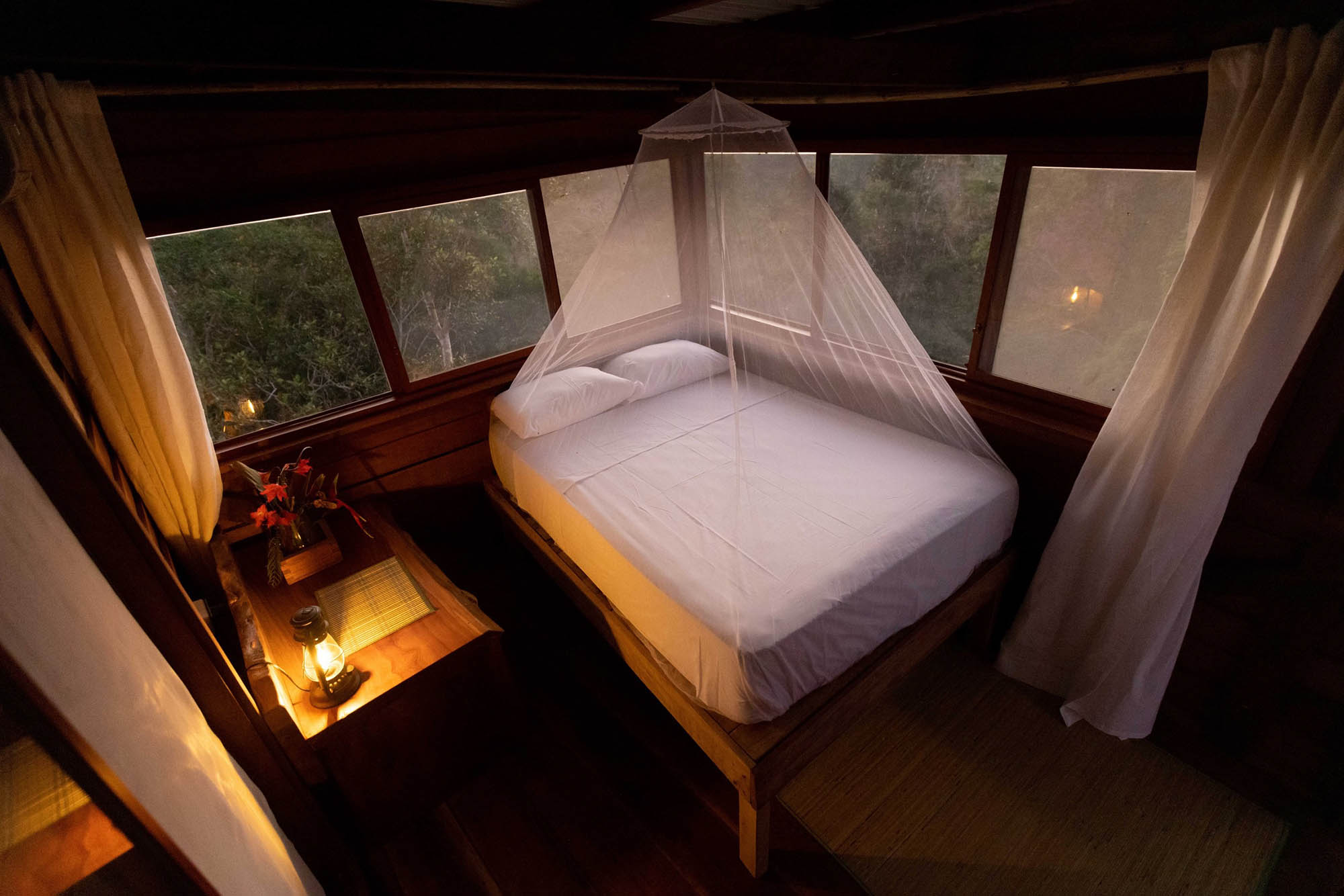 Prepare for a luxury expedition into the lungs of the Earth.
Start your day by the sights and sounds rarely seen by anyone on Earth.
Waking up in the rainforest canopy is an unparalleled adventure, offering a perspective rarely seen even by scientists and explorers. As the sun's first rays pierce through the thick foliage, the canopy comes alive with a vibrant tapestry of colors and sounds.
What sets this experience apart is its unique viewpoint, allowing you to witness the intricate web of life that unfolds below. The canopy's bustling metropolis of birds, primates, and other creatures creates a symphony of sights and sounds that serenades you to sleep and greets you at dawn.
It's an opportunity to immerse yourself in the rainforest's ecosystem and appreciate its wonders in a way that few ever have the privilege to do. Waking up in the rainforest canopy is a truly exceptional journey into the heart of nature.
Discover the Amazon with Our Professional Expedition Team.
Exploring the Amazon Rainforest with our professional expedition team is an unparalleled opportunity for a safe and insightful adventure. Our experts provide in-depth knowledge of the Amazon's biodiversity and ecology, allowing you to appreciate the intricate web of life in the canopy and below.
Birdwatchers, for example, are in for a treat. The canopy is a bustling metropolis for countless species of birds, many of which are seldom seen from the forest floor. Scarlet, red and green, blue and yellow, and chestnut fronted macaws are all frequent visitors. As are toucans, tanagers, aracaris, trogons, cotingas and so many other gracefully glide through the air, their vibrant plumage contrasting with the verdant backdrop. Our team will help you identify these magnificent birds in their natural habitat, a privilege reserved for the canopy adventurer.
Experience the wonders of the Amazon while enjoying the luxurious amenities and services of our resort.
Exploring the Amazon is an awe-inspiring experience in itself, and our premium services elevate it to a realm of unrivaled luxury in this setting. Alta Sanctuary presents an array of opulent amenities and offerings, meticulously designed to guarantee your stay is nothing short of extraordinary.
Indulge in exquisite cuisine and savor breathtaking vistas, ensuring every moment is etched in your memory. Our dedicated and discreet staff is at your beck and call, ensuring your every desire is not only met but surpassed.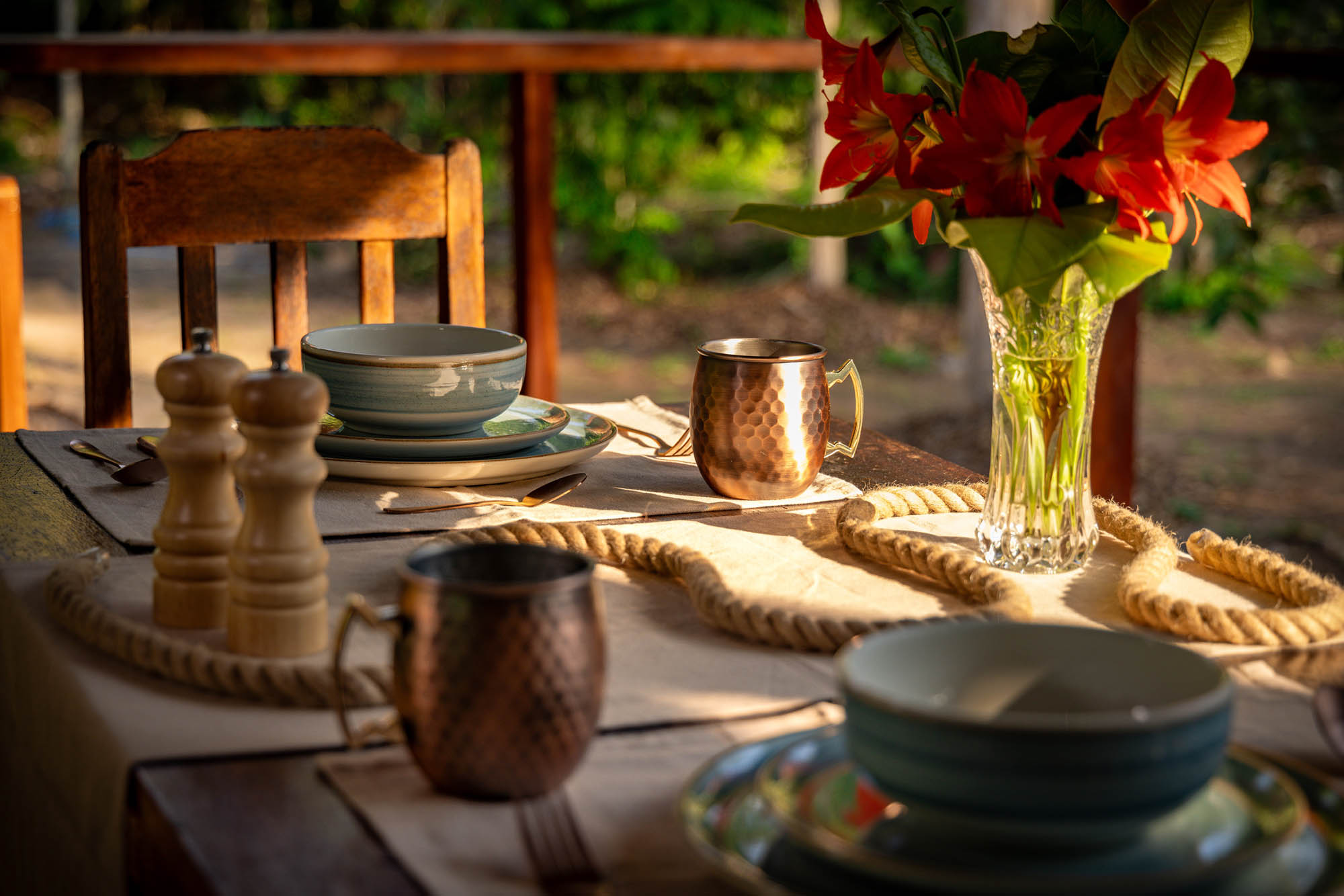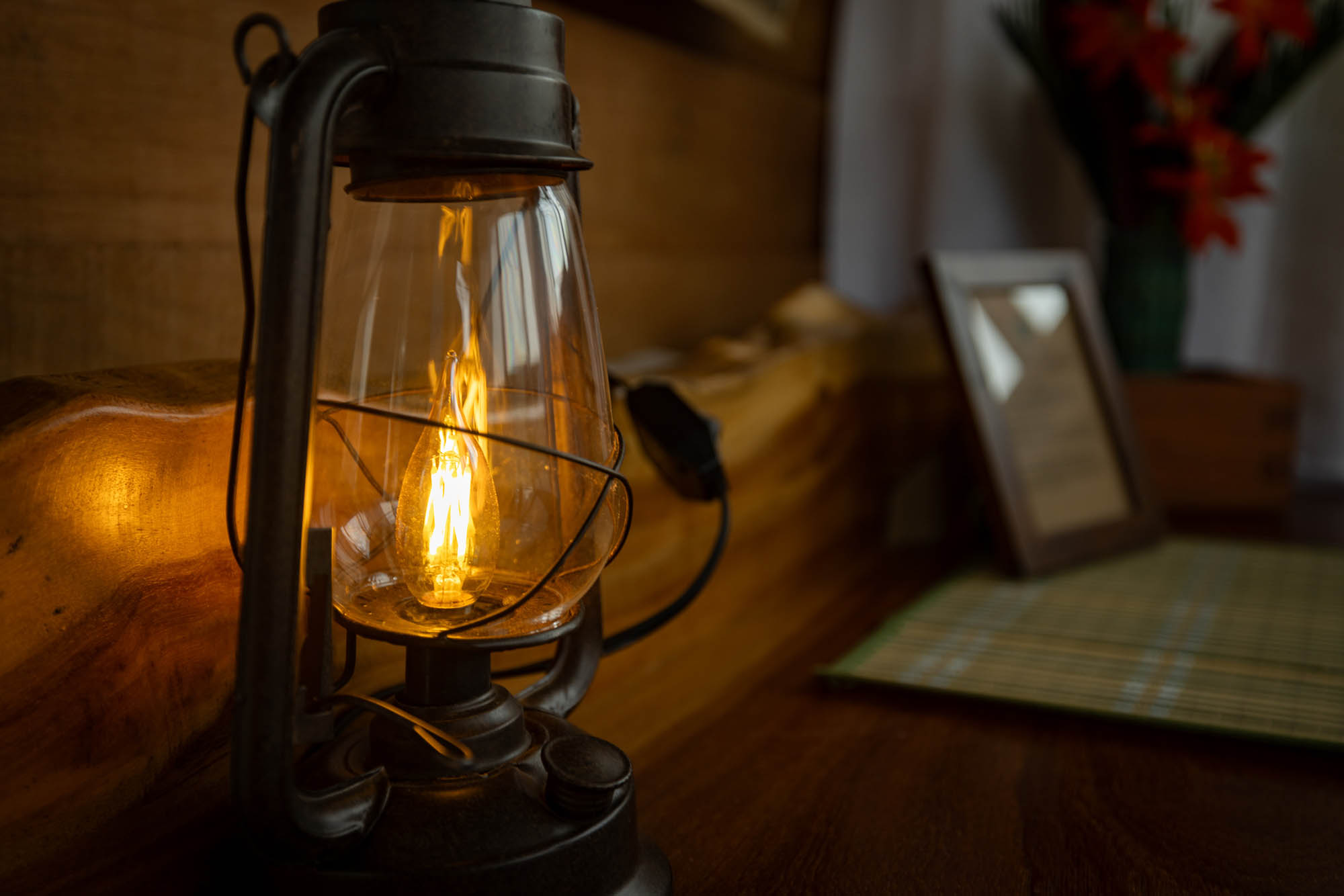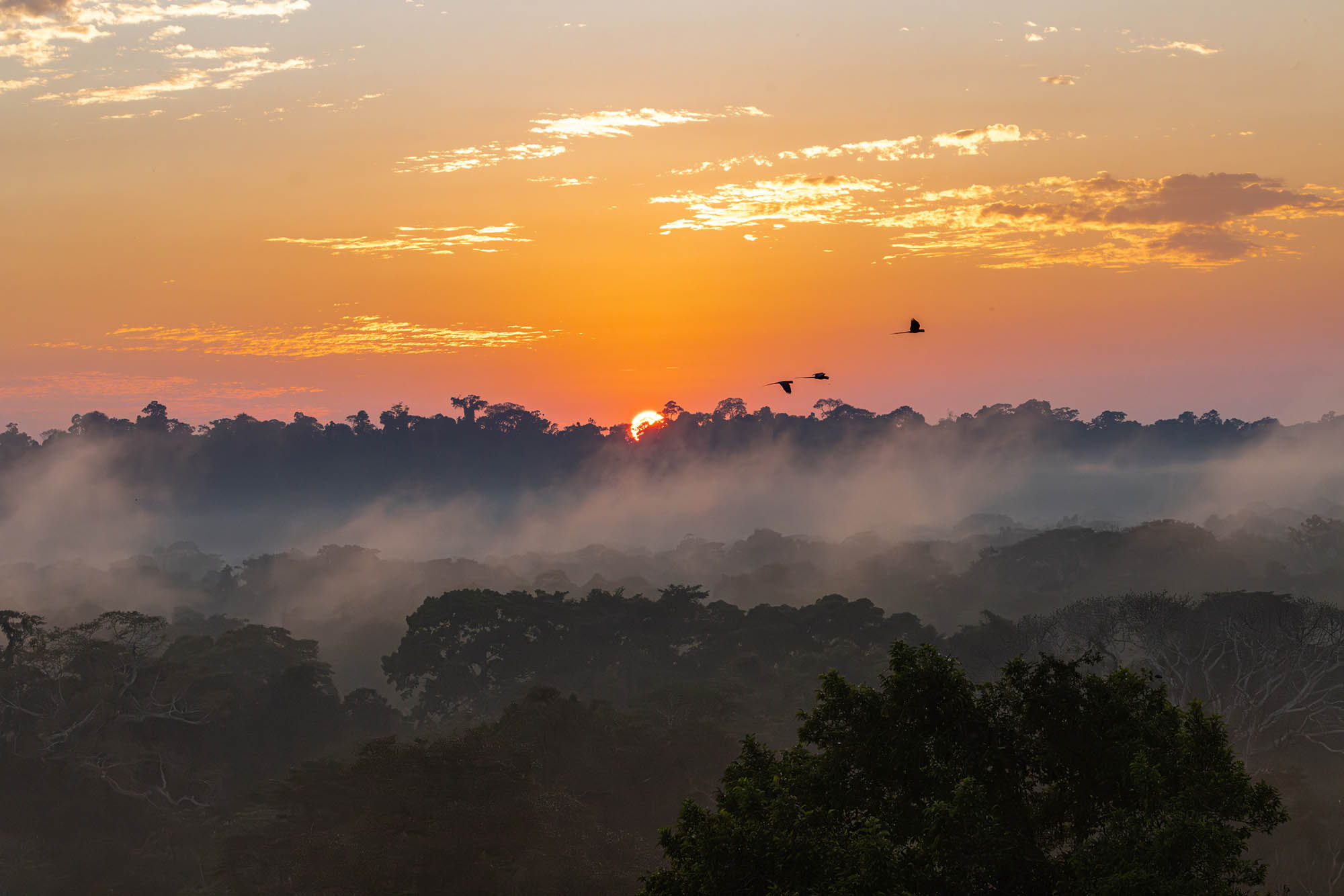 Countless heartbeats within every square kilometer.
One of the most biodiverse places on Earth.
Nestled within our secluded treehouse retreat, you'll find yourself surrounded by a veritable paradise of lush flora and an incredibly diverse tapestry of fauna. This rainforest enclave is a living testament to the magnificence of the natural world, a sanctuary where the beauty of the Earth's green heart unfolds before your very eyes.

From your elevated perch in our treehouse, you'll have the rare privilege of observing this pristine rainforest and its vibrant inhabitants in their undisturbed natural habitat. The canopy becomes your personal viewing platform, offering an intimate glimpse into the lives of the creatures that call this lush ecosystem home.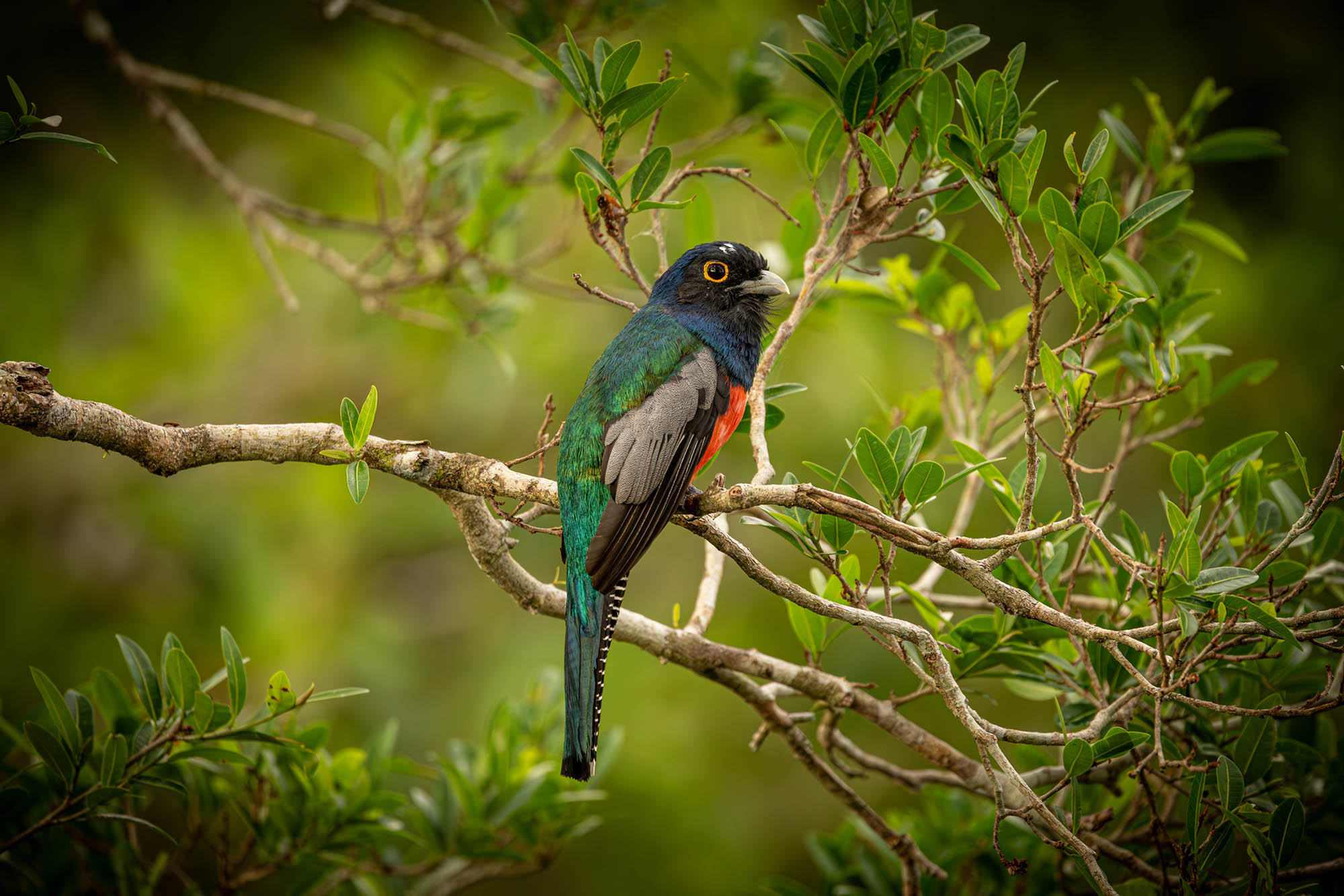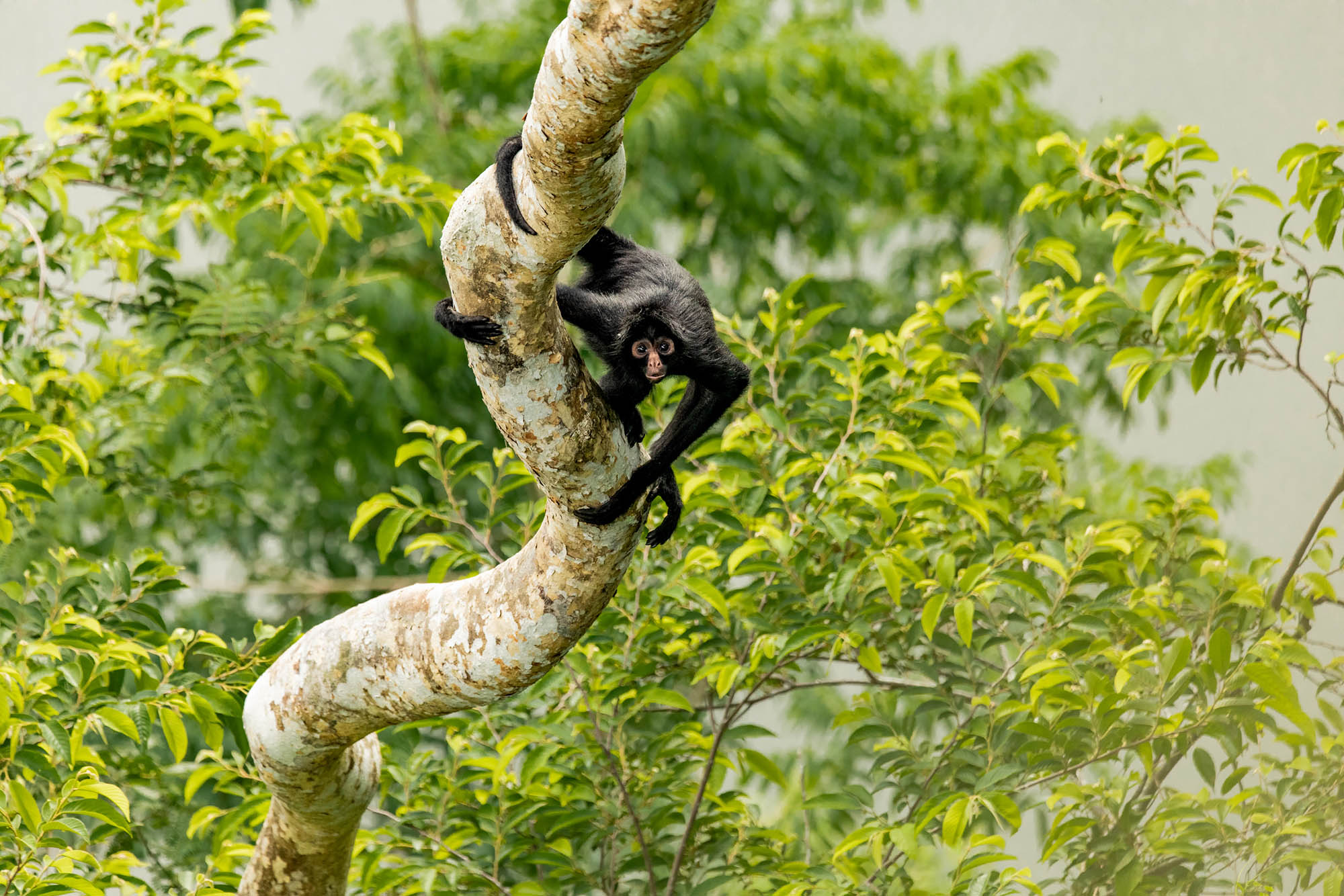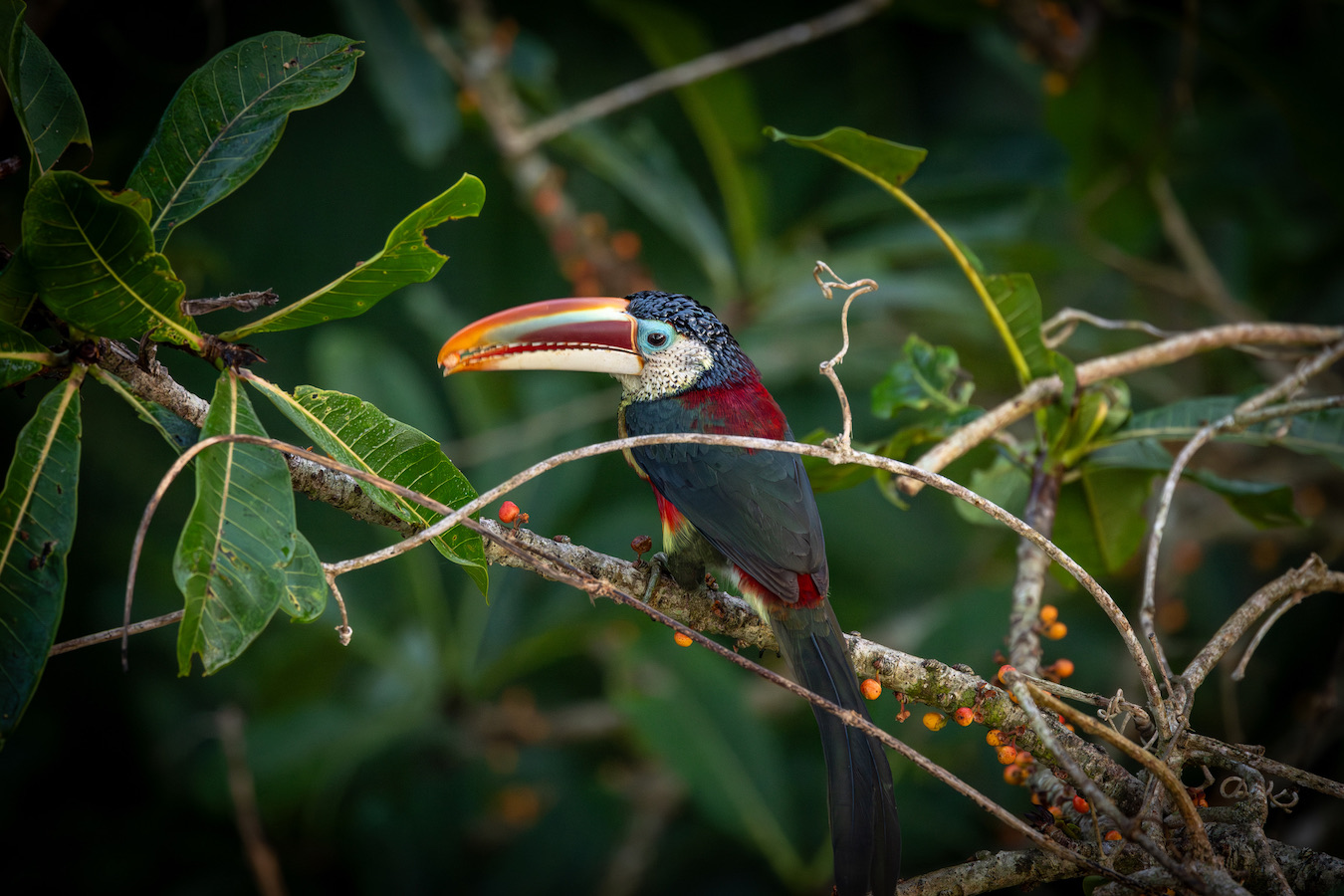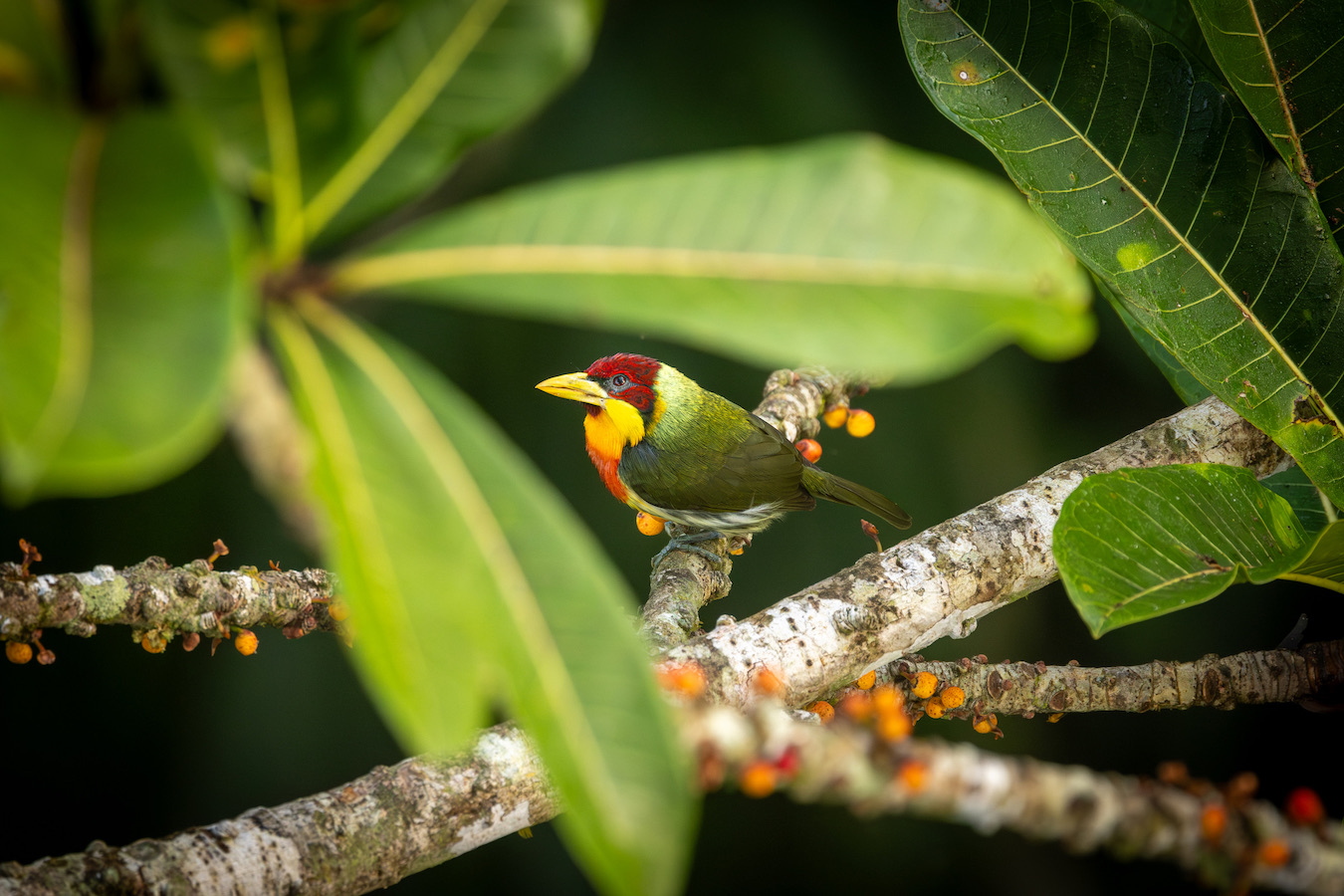 Help conserve the Amazon Rainforest's flora and fauna.
At the core of our mission lies an unwavering commitment to safeguarding the pristine allure of the rainforest and nurturing its captivating inhabitants.

When you choose to reside with us, your support directly fuels our relentless dedication to conserving the Amazon's rich tapestry of flora and fauna, ensuring that the splendor of this rainforest remains a timeless treasure for all. Your stay is not just a luxury experience; it's a tangible contribution to the enduring preservation of the Amazon Rainforest's natural splendor.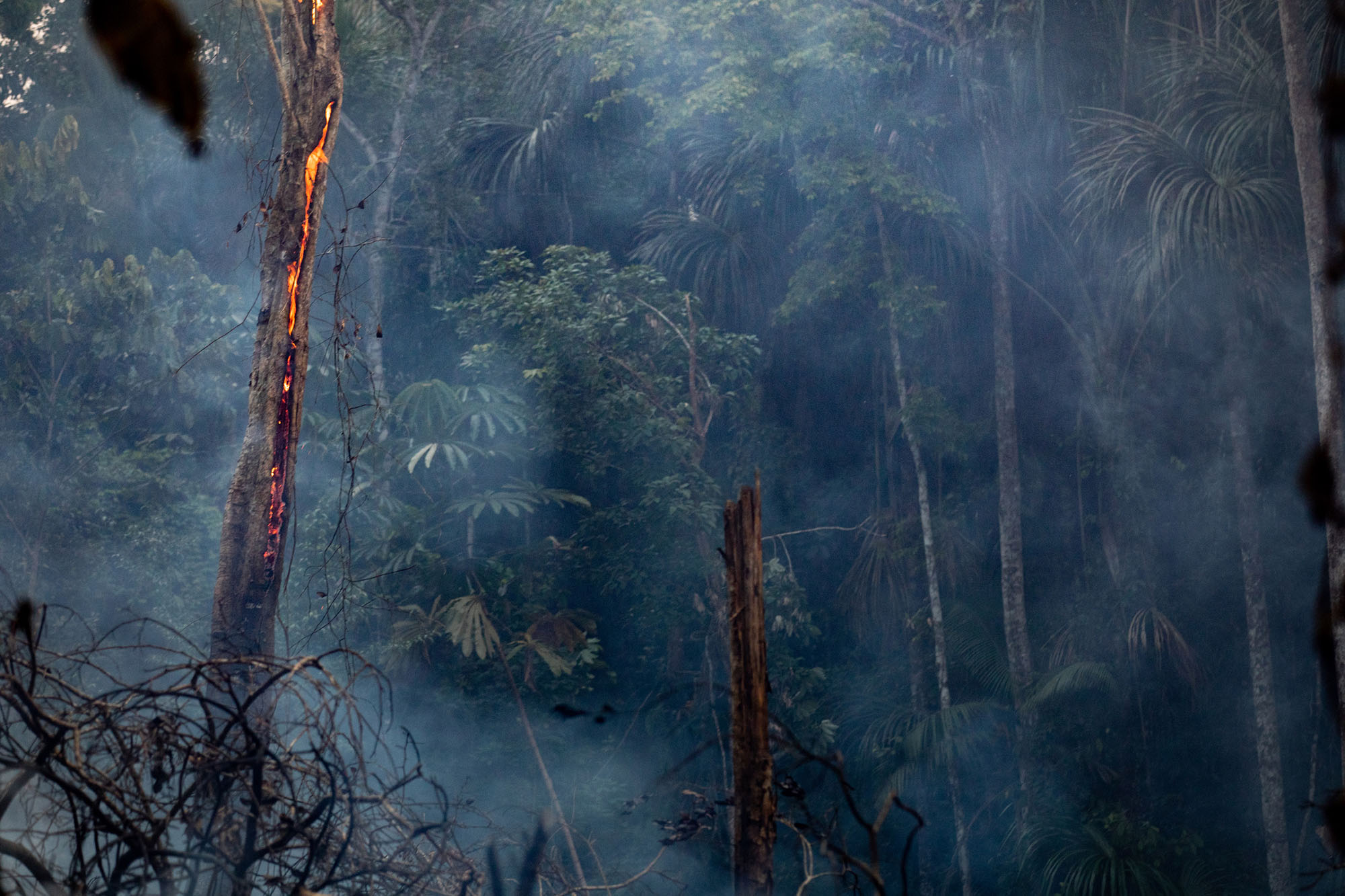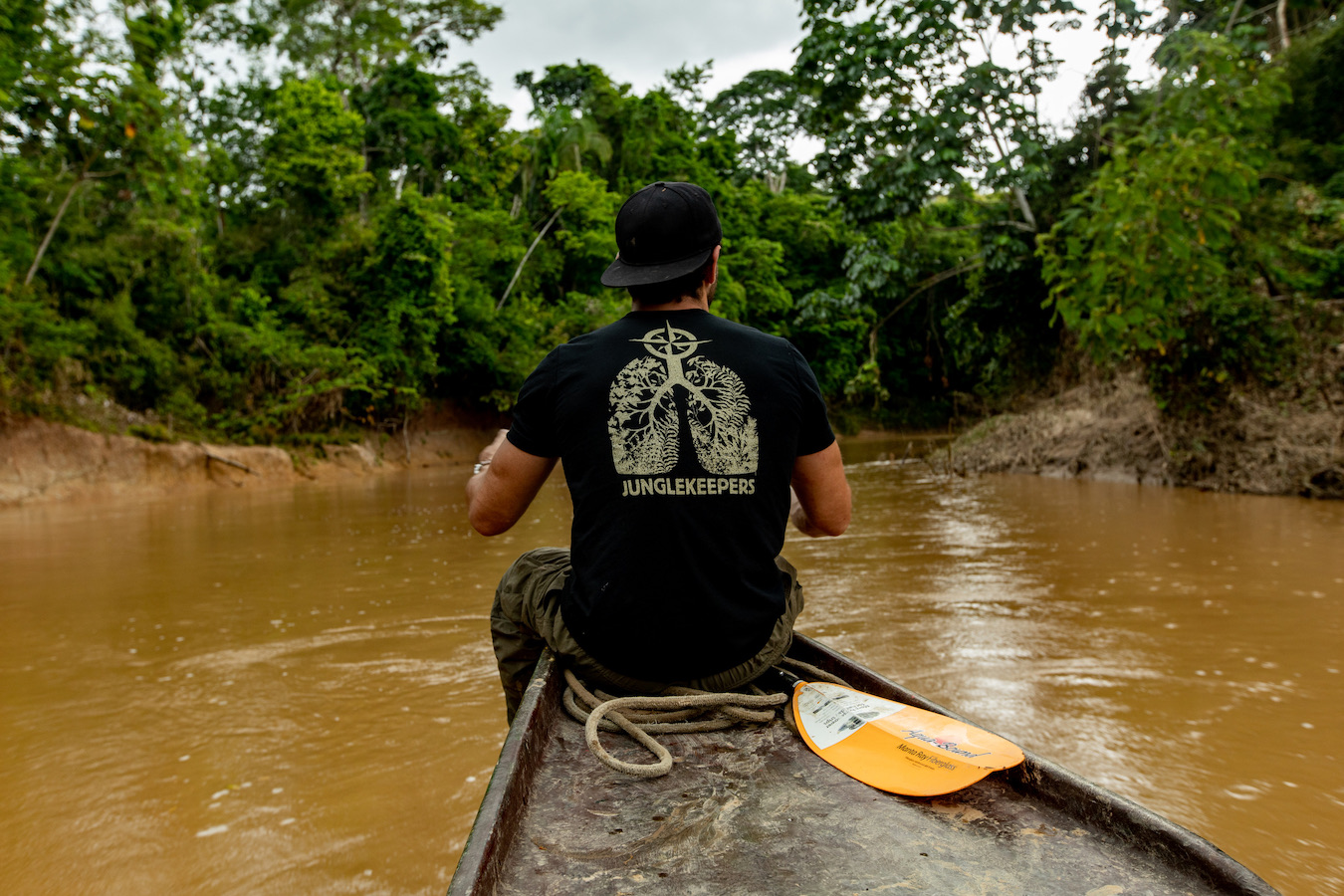 We take care
of everything.
All you need to do is get here.
The route from the nearest airport to the treehouse is an expedition in itself, consisting of a 4 hour journey through unpaved roads and down the Las Piedras river to arrive at Alta Sanctuary.

Weather in the Amazon is notoriously unpredictable. To counter this, our staff asks you to arrive one day prior to your reservation to make sure the route is as clear as possible.
1.
Book a flight.
Find a flight to Puerto Maldonado, Peru and a hotel to stay the night, refresh from your journey, and prepare for your expedition.
2.
We take you to the treehouse.
The morning of your stay, we will pick you up at your hotel and take you to the treehouse. This trip is ~4 hours through muddy terrain and a power boat ride down the Las Piedras river.
3.
Enjoy the view.
Enjoy complimentary drinks waiting for you at the treehouse once we arrive, and bask in the wonder of the wild amazon rainforest.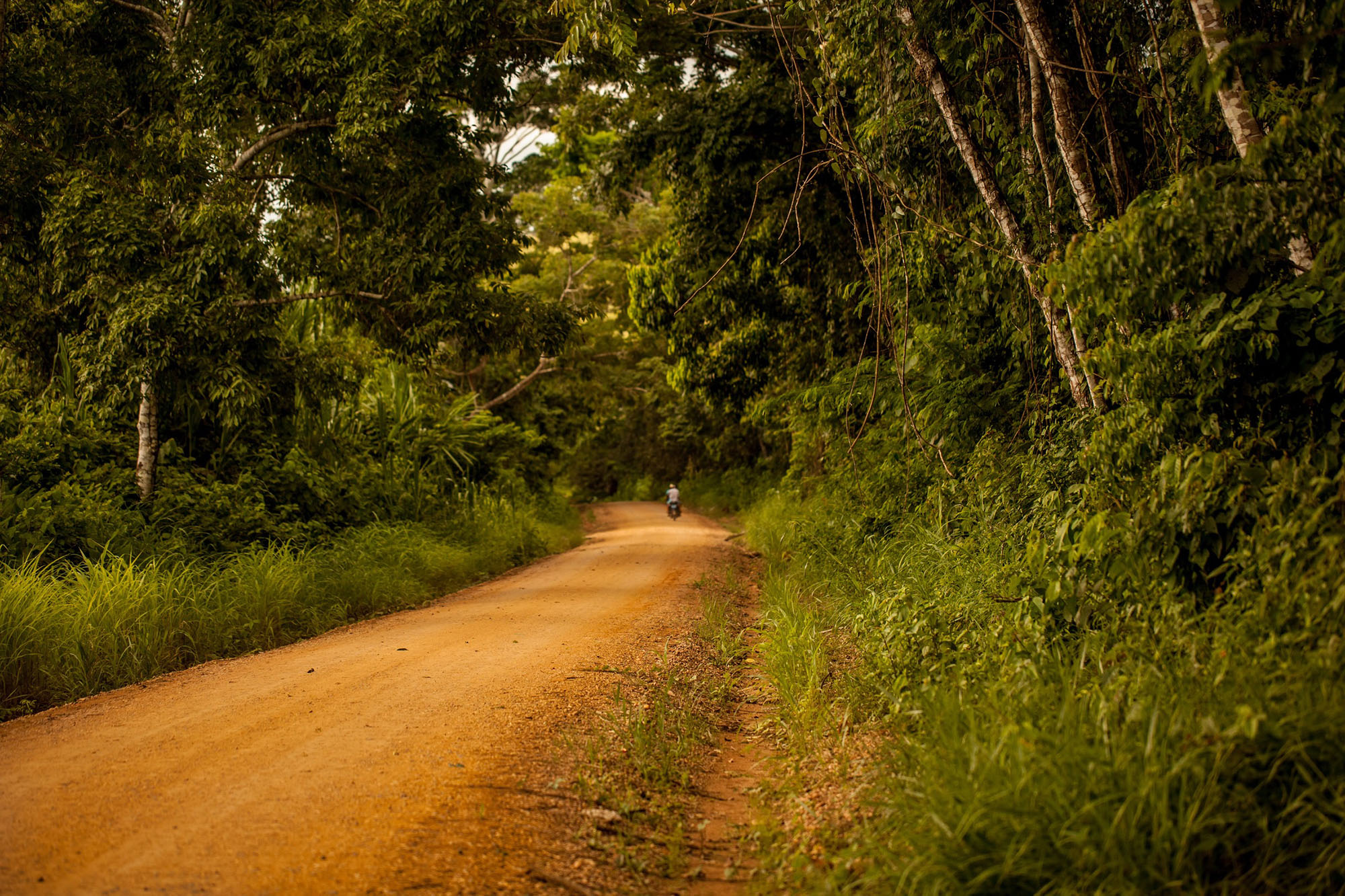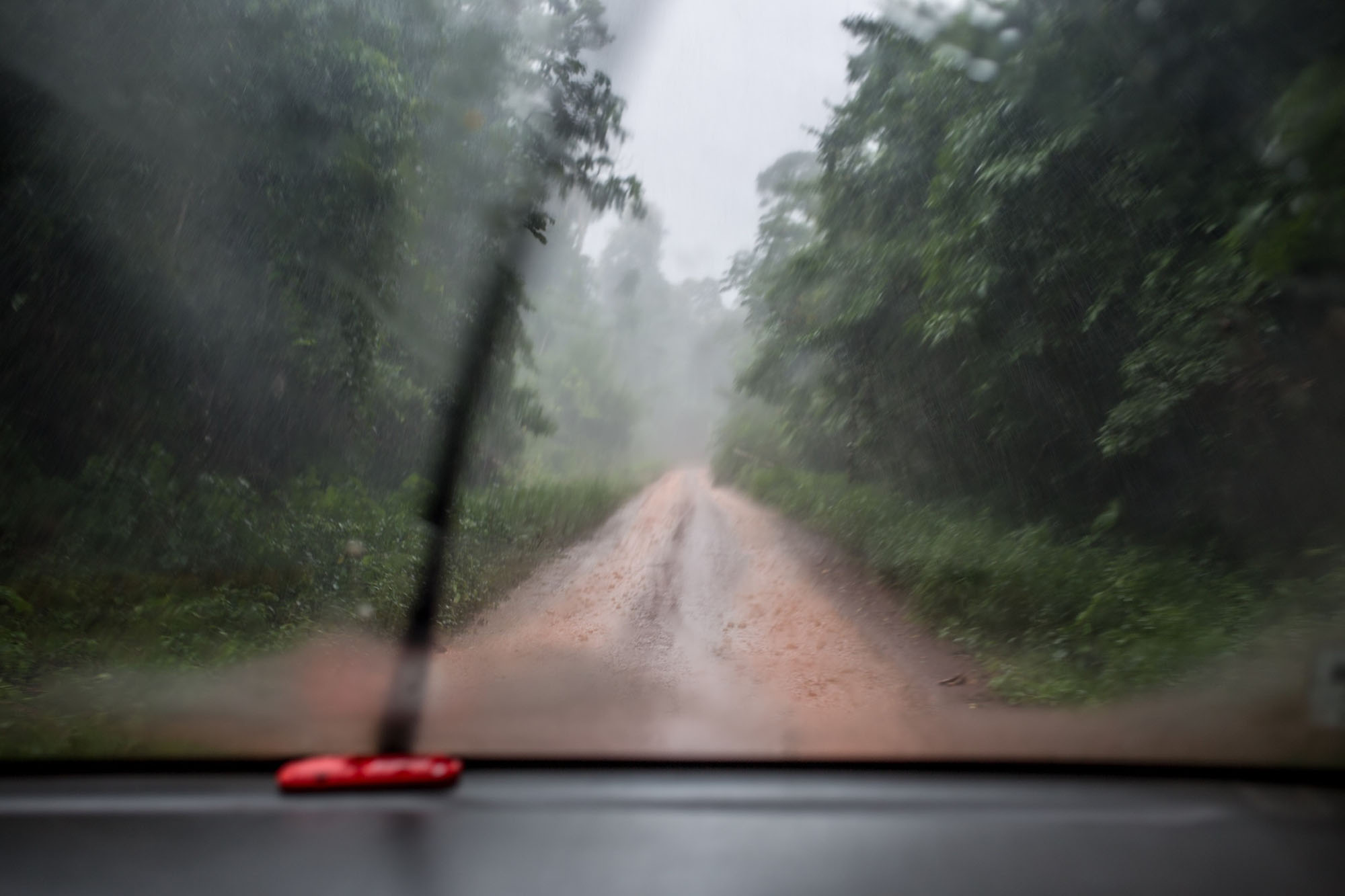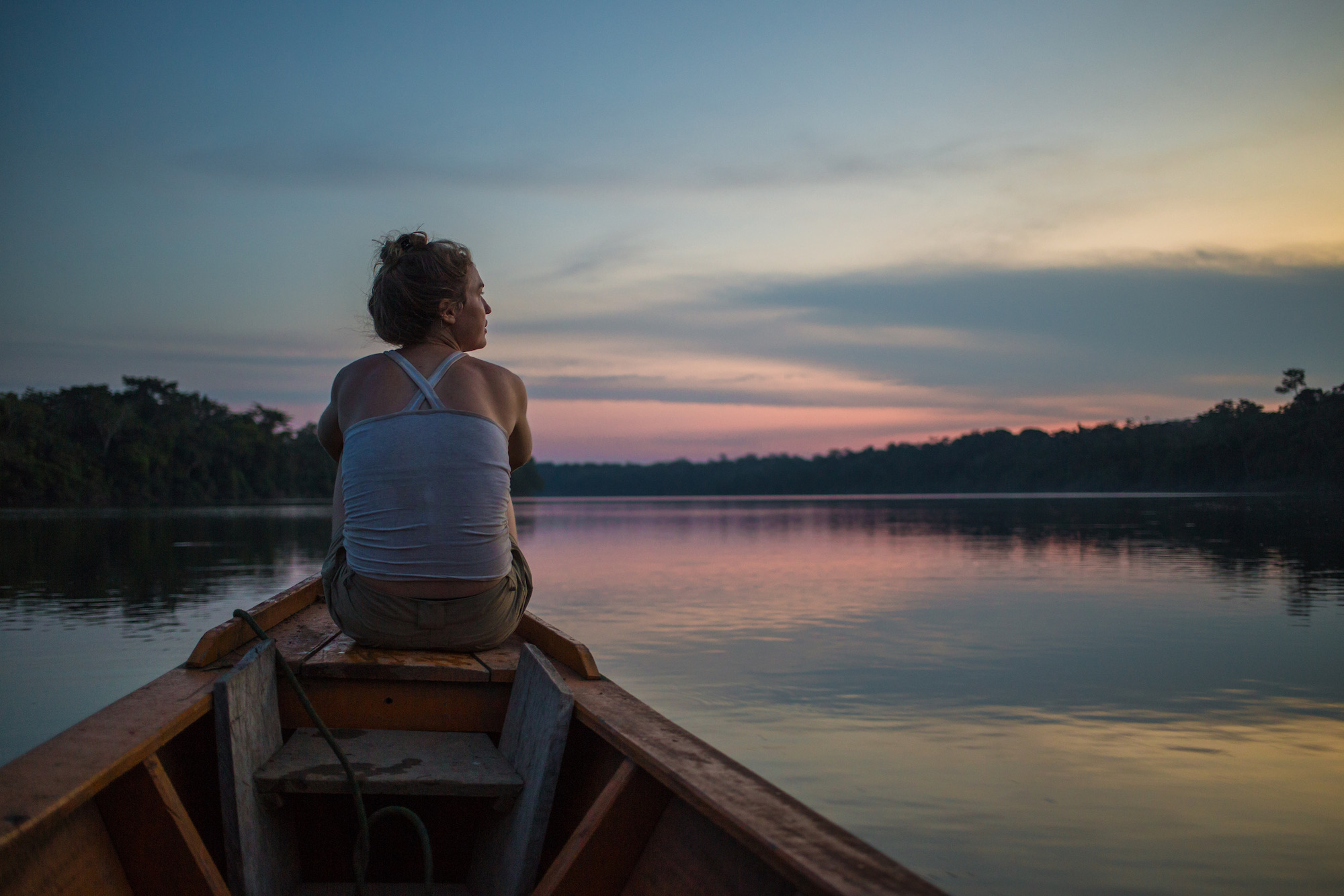 Details of our
soft opening
Embark on an exclusive journey as one of our inaugural guests, poised to become a pivotal part of shaping and refining this extraordinary treehouse experience.

As we prepare to introduce our exceptional retreat, we are wholeheartedly committed to creating a flawless experience for you. Our team is training and practicing to provide the highest level of service, constantly seeking ways to improve and adjust to the unique dynamics of the Amazon environment as we grow and develop over time.

For more detailed insights into this exclusive soft opening, please explore the frequently asked questions provided at the bottom of this page.
Included
Stay in our luxury treehouse
Relax in luxury 110 ft. above the canopy of the Amazon rainforest.
All Meals
Private chef on-site that will accommodate fine-dining and all your dietary preferences.
A private guide
Experts of the Amazon are available at all hours to show you the richness of the flaura and fauna all around you.
Day and Night Walks
Explore the majesty of the flora and fauna of the Amazon Rainforest with your guide.
Tree Climbs
Push your limits and feel the thrill of climbing the worlds tallest trees.
Macaw Clay Lick
Get up close and personal with a legendary bird of the Amazon, the Macaw.
Not Included
Airfare to and from Puerto Maldonado
Puerto Maldonado Nights
Choose your stay in Puerto Maldonado, our team will pick you up and drop you back at the hotel of your choice.
Expedition and/or Travel Insurance
Alta Sanctuary is 3 hours away from the nearest hospital.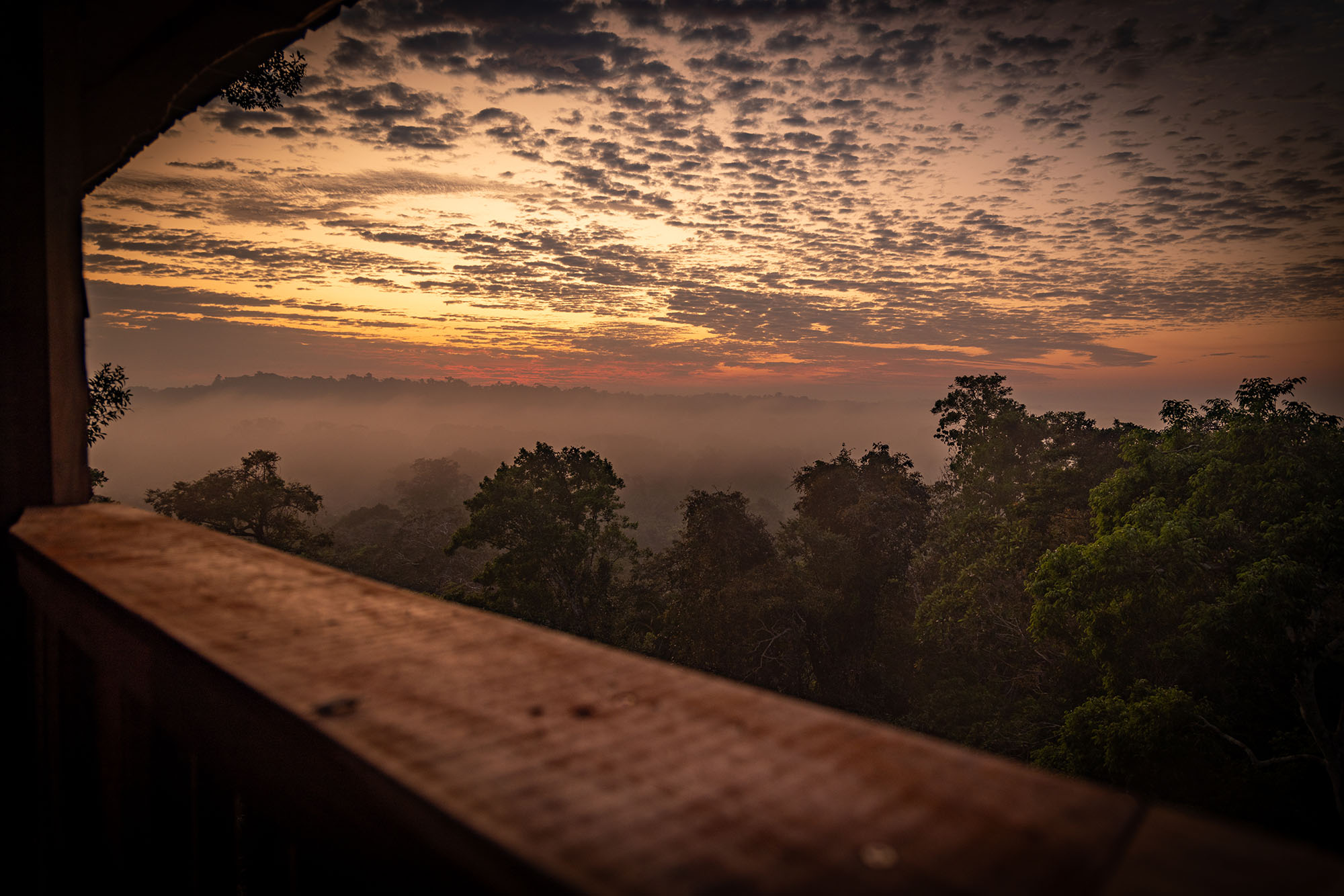 Commonly Asked Questions
Soft Opening
We finally completed the construction of our treehouse and would like to welcome guests. However, our appliances are all new, and our staff is still getting acquainted with all the work involved in providing a world-class and unique luxury experience. Therefore, there are some rough edges. The Soft Opening is for people who want to be the first ones to experience this incredible setting and don't mind providing us feedback on what to improve.
It includes almost our entire proposition. The soft opening of our accommodation includes your stay in our luxury treehouse, all the meals during your stay, an exclusive and private guide available for you and your guests to take you on day and night walks and expeditions into the forest. For adventurous people, we take you on a stunning tree climb, and access to view hundreds of macaws enjoying a clay lick, one of the world's best.
Your airfare to Puerto Maldonado and your optional nights in Puerto Maldonado are not included. You can choose how many nights you want to stay on each side of your trip, just tell us where you stay and we'll pick you up, and drop you off after your stay. Lastly, the jungle remains a remote environment, so your expedition and/or travel insurance, which we highly recommend for your stay, are not included.
Environment & Best Time to Visit
There is no wrong time to visit the amazon Rainforest and we are open year round. Visiting the rainforest during the dry or wet season comes with its own set of advantages and challenges. The dry season run from late April through early November and the wet season from november through April. It can change by several weeks depending on the year. Here are some pros and cons for both seasons:
Dry Season: The dry season from late April through early November, typically brings clearer skies and paths are generally drier, making it easier to explore the rainforest without dealing with too muddy conditions. It still rains periodically. With fewer water sources available, wildlife tends to concentrate around remaining waterholes and streams, providing excellent opportunities for spotting animals. Dry season can also bring both higher and lower temperatures, potentially leading to discomfort for those not accustomed to the heat or cold fronts. Some waterfalls and rivers may have lower water levels, impacting the overall aesthetic experience. It's a good time to see birds and mammals, reptiles sightings are a bit less frequent.
Wet Season: The rainforest is at its most vibrant during the wet season, with lush, green foliage and blooming flowers creating a picturesque environment. Waterfalls and rivers are in full flow, providing a breathtaking spectacle and enhancing the overall visual and auditory experience. the sun still shines often but heavy rainfall are frequent and lead to muddy and slippery trails, making hiking and trekking more challenging but always enjoyable. Reptiles are usually more visible; although birds and mammals sightings remain frequent.
Ultimately, the best time to visit depends on individual preferences and the specific experiences one is seeking. Some travelers may appreciate the lushness of the wet season, while others may prefer the clearer conditions of the dry season.
Alta Sanctuary is located several hours from the nearest town, in pristine primary rainforest that has been standing for thousands of years. It's this seclusion that enables incredible wildlife sightings as well as a truly immersive jungle experience. Your stay enables our team to continue to keep it this way, minimizing our footprint and helping our conservation efforts to keep logging, poaching and mining away from the region.
Access & Transportation
No. You are responsible for booking your travel itinerary to and from Puerto Maldonado, Peru. If you have dates in mind, please make sure you are in Puerto Maldonado early morning so we can pick you up for the journey to the jungle. For your return, anticipate a late arrival to Puerto Maldonado as well as getting out of the jungle can take some time. We recommend a hotel night in Puerto Maldonado before and after your treehouse stay to guarantee a timely experience.
We pick you up from a location of your choosing in Puerto Maldonado, then we first drive through the jungle to the river, and then finally take a motorized boat to our property and the treehouse. Its a very fun, approximately 4hr trip. It can be longer (or shorter) depending on road and river conditions, but don't worry, our team has you covered, and we consider it to be an amazing experience in itself.
This depends on the time of year, length of your stay, and activities you plan to do. It is the Amazon Rainforest, so bring clothing you feel comfortable wearing in hot, damp weather.
In general, we recommend for you to consider bringing the following items:
Lightweight, Moisture-Wicking Clothing: Long-sleeve shirts and pants to protect against insects and sun, and T-shirts and shorts for warmer times. Breathable, moisture-wicking fabrics are strongly recommended.
Rain Gear: A high-quality rain jacket or poncho. The Amazon can experience sudden downpours.
A spare pair of shoes: in our experience, if it's raining it's nearly impossible to keep shoes dry, even waterpoof ones. So we recommend to bring two pairs, and make sure they are comfortable and ideally dry fast.
Hat and Sunglasses: Wide-brimmed hat and polarized sunglasses for sun protection.
Insect repellent and sunscreen are important shield against the intense tropical sun and insects.
Swimwear: you will likely have the opportunity to bath in the river, so we recommend swimming gear
Backpack: a small, lightweight daypack for excursions and carrying essentials.
Binoculars, camera and other electronics: to view and capture the stunning wildlife and lush scenery around you, we provide binoculars for your use, but don't hesitate to bring your favorite camera, binoculars and other accessories.
Headlamp or flashlight: a must for night walks, we recommend a headlamp if you possess one. Our team can provide some if you don't.
Personal toiletries: we provide all the necessary amenities you'd expect from a luxury hotel, but you should feel free to bring your personal toiletries. We ask you to prefer biodegradable products as we have an eco friendly waste management system.
Prescription medications: Ensure you have an adequate supply for the duration of your stay.
Cash and cards: there is no ATMs, so you may carry some cash for tips if you'd like, but your stay is inclusive so you don't have to.
Environmental & Personal Safety, and Wildlife Encounters
Alta Sanctuary stands as a beacon of responsible tourism, committed to both the preservation of the rainforest and the well-being of local communities. At our core, we embrace a holistic approach to conservation, recognizing that the health of the rainforest and the prosperity of its indigenous inhabitants are inherently intertwined.
In terms of rainforest preservation, we are focussing on minimizing our footprint. We partner closely with
Junglekeepers
to ensure the conservation of the rainforest's ecosystems and species. To minimize our ecological footprint, we employ renewable energy sources, water-saving technologies, and waste reduction measures. Additionally, we enforce strict guidelines for low-impact guests activities, ensuring that everyone engages with the environment without causing harm.
Equally significant is our commitment to local communities. The majority of our staff comes from the nearby indigenous communities. By providing employment opportunities and fair wages to local residents, Alta Sanctuary aims to contribute to the economic stability of the region.
When you explore rainforest, often perceived as a realm of wild and potentially perilous encounters, it can be a relatively safe environment for visitors who act prudently and heed the counsel of our seasoned guides.

Many of the Amazon's more formidable residents, such as jaguars, pumas, and venomous snakes, are naturally reclusive and prefer to avoid human contact. Our professional guides are well-versed in local flora and fauna and can spot signs of potential danger, ensuring your safety. Our responsible ecotourism in the Amazon emphasizes minimal disturbance to wildlife and their habitats, and ensures you will be kept safe to enjoy its wonder.